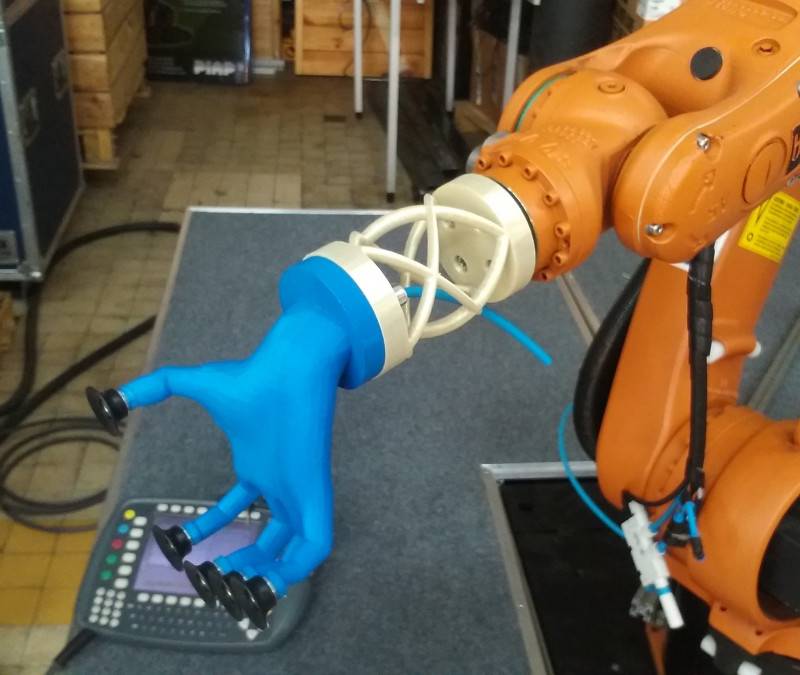 07-12-2016
Print in 3D from special polymers with PIAP.
The PIAP Institute offers a unique in Poland service of 3D printing from high-strength polymers designed for use in most demanding industries including aerospace.
The Laboratory of Rapid Prototyping and Numerical Computations offers professional services for the designing of increasingly demanding functional prototypes. 3D printing technologies based on high-strength industrial polymers, such as ABS-M30, polycarbonate or ULTEM 9085, are used for this purpose.
As a result of the recent research done by the manufacturer, as users of the ULTEM 9085 material, we were advised of full suitability of this material for fabrication of functional parts for the aerospace industry.
"ULTEM 9085 Material with Full Aerospace Traceability Aerospace engineers and manufacturers require materials with precise specifications and traceability for prototypes and end-user parts. Stratasys' ULTEM™ 9085 Aerospace grade filaments are produced according to aerospace specification requirements. There is no change from the standard ULTEM 9085 material, but the new "Aerospace" designation allows for full production traceability in compliance with requirements from agencies such as the FAA and NASA. In addition to the Stratasys Certificate of Compliance, each order of ULTEM 9085 Aerospace grade filament has traceability documentation and a certificate of analysis confirming batch material properties. What does Aerospace certification mean on the ground? Engineers can begin prototyping earlier in the design process, accelerating time to market and avoiding high costs resulting from late development design changes. ULTEM 9085 Aerospace is also optimized for low-volume or custom tooling applications."
It is significant that the leading manufacturer of the Airbus aircraft has certified the ULTEM 9085 material and will use it for fabrication of final parts for the A350 XWB aircraft:
"Stratasys has announced that Airbus, the leading aircraft manufacturer, is standardizing on ULTEM™ 9085 3D printing material for production of flight parts for its A350 XWB aircraft. Stratasys' ULTEM™ 9085 resin is certified to an Airbus material specification and is used in Stratasys' FDM-based additive manufacturing solutions. By combining a high strength-to-weight ratio with FST (flame, smoke, and toxicity) compliance for aircraft flight parts, ULTEM 9085 enables production of strong, lighter weight parts while substantially lowering manufacturing costs and production time."
The manufacturer-provided calculator of changes in ULTEM 9085 parameters is a convenient tool for evaluation of suitability of the material. To check values of parameters select (click) an estimated operating temperature on the top of the table and read values from the diagrams shown below: http://www.stratasys.com/materials/fdm/ultem-9085/ultem-calculator/.
Other evidence comes from laboratory tests that have been performed on this material from a few years by its distributors. Click the following link to see ULTEM's resistance to increased temperatures: https://www.youtube.com/watch?v=euz12Pxx0cc/.
In the photographs: Joint of a humanoid pneumatic gripper with the arm of the robot, made from the ULTEM 9085 material (photograph by PIAP)