01-04-2021
Funding for companies active in robotics
April 30, 2021 is the deadline for submission of applications for the open call, focused on the implementation of tasks in the field of robotics. The competition is aimed at SMEs and Mid-Caps active in the areas such as: cobots, human-robot interaction and machine intelligence.
Participation in the competition is an opportunity to obtain funding in the amount of up to EUR 100.000. This is the first call organized by the VOJEXT project, funded from the European Union through the Horizon 2020 programme.
Details of call's challenges
Applications must address one of the following challenges:
CHALLENGE 1 – CONSTRUCTION ROBOTIC TOOLSET
Development of a robotic solution designed for accomplishing plastering tasks with a robotic arm and 1 or more different end-effectors. Such solution should be able to work on top of an existing mobile wheeled robot part of the VOJEXT environment.
Development of secure and autonomous robot navigation in highly dynamic environments.
CHALLENGE 3 – VISUALIZATION OF POINT CLOUD IN A VR HEADSET
Scene and improve system's usability, allowing user to navigate around the generate pointcloud using VR equipment.
CHALLENGE 4 – INTEGRATE TWO LEAP MOTION DEVICES TO IMPROVE USER'S HAND MAPPING
Synchronize two leap motion devices to allow precise but cheap hand mapping. Integrate the output with the teleop pipeline.
CHALLENGE 5 – INVESTIGATE A NEW METHOD OF HAND MAPPING AND INTEGRATE IT TO THE TELEOP PIPELINE
Reproduce a method concerning hand movements tracking. If applicable, the method will be integrated into the teleop pipeline.
The duration of each project is 9 to 12 months.
Competition procedure
The application deadline is on April 30, 2021 at 5.00 p.m. CET. The results of the evaluation of the applications will be announced in early June. In this month the signing of contracts with selected applicants will start, so that projects can be launched as early as July.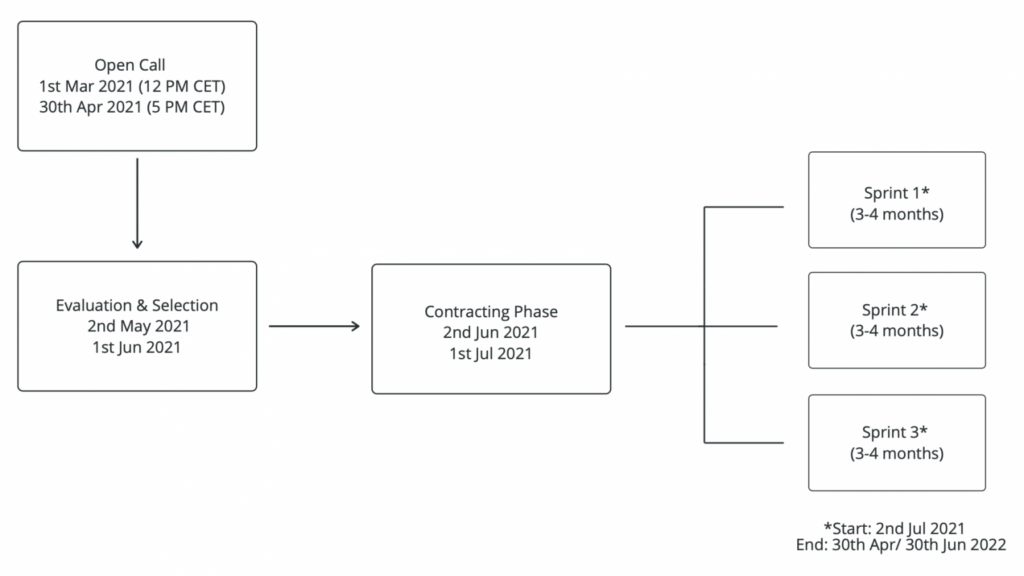 The entire application process and related documents as well as the resulting collaboration with the VOJEXT project consortium will be conducted only in English. Applications should be submitted at https://www.f6s.com/vojextopencall1-techchallenges.
More details about the call can be found at https://vojext.eu/open-calls/, where you can find e.g. the guide for applicants. If you encounter difficulties with the preparation of the application or the need to clarify the details of the call, you can reach organizers by writing to opencall@vojext.eu.
More information about the project can be found here: https://piap.lukasiewicz.gov.pl/en/research-projects/vojext-project/.