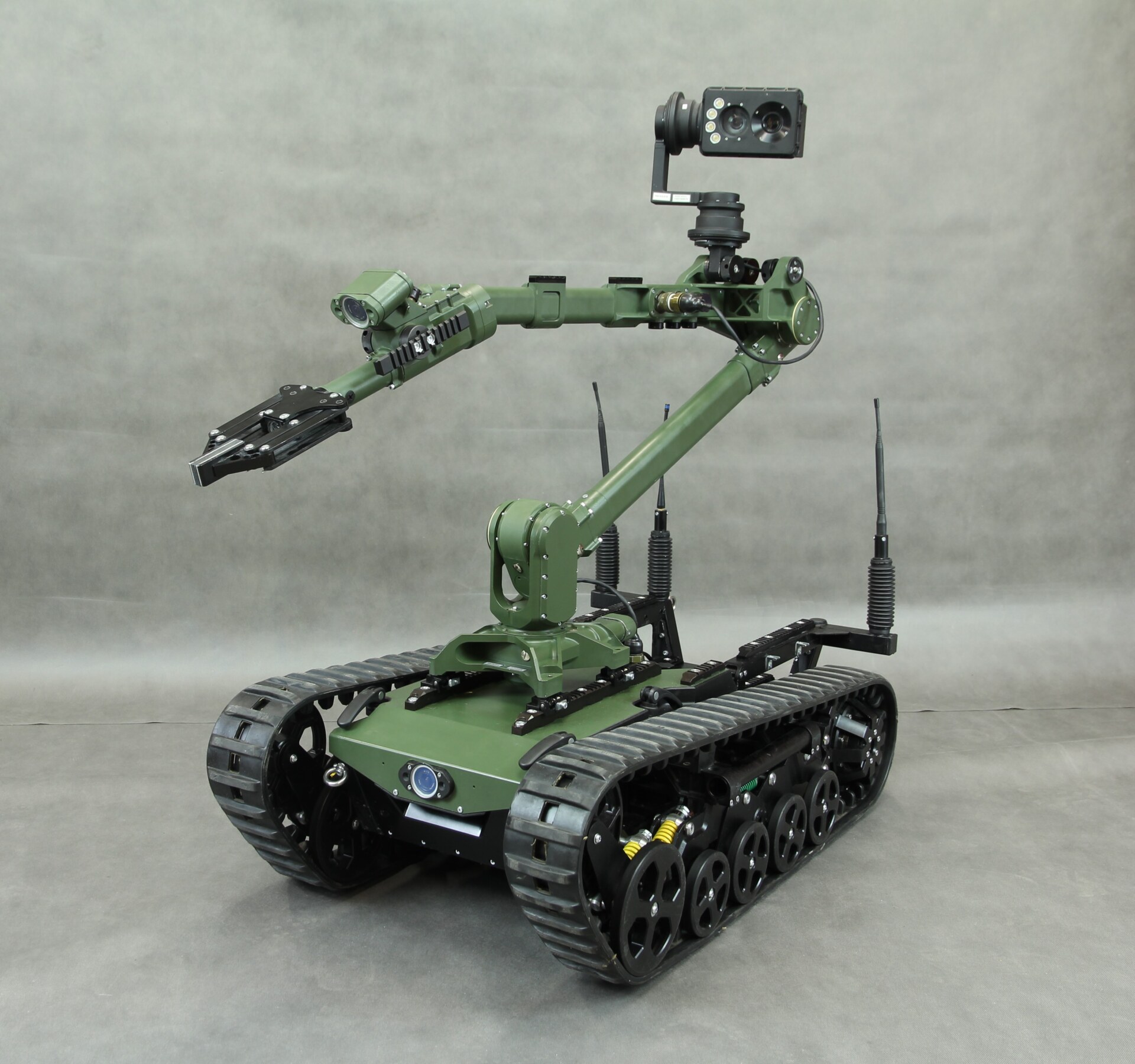 14-12-2021
Domestic and export contracts of Łukasiewicz – PIAP in 2021
In the passing year Łukasiewicz – PIAP delivered over a dozen robots for security and public order services in Poland and abroad. These included PIAP IBIS®, PIAP TRM®, PIAP GRYF®, as well as Mobile Reconnaissance Robots (RPP).
The largest orders completed in the passing year by Łukasiewicz Research Network – Industrial Research Institute for Automation and Measurements PIAP include national deliveries for the Police and Polish Army. Five heavy pyrotechnical PIAP IBIS® robots were received by the Police. The Polish Army obtained the second and last batch of Mobile Reconnaissance Robots (RPP) – Engineering Robot model 1806 – including 35 robots in total.
The next projects were implemented for foreign entities. The Institute delivered its robotic solutions to recipients from Israel, Indonesia and Italy. The armed forces of these countries were equipped with PIAP TRM® and PIAP GRYF® robots.
So far the mobile robots developed and manufactured by Łukasiewicz Research Network – Industrial Research Institute for Automation and Measurements PIAP have been sent to clients
in 22 countries. In spite of these undisputed successes, the Institute's management takes up actions aimed at reaching potential customers on foreign markets even better.
This year shows and tests for pyrotechnical detachments were carried out in
in Europe (in the photographs – the shows for the Finnish police), as well as for officers from South Asian countries.
Another generation of PIAP GRYF® robot is most popular.
It is the best known and proven model of the medium robot of the Institute, already used in several armies in the world, from South Korea to Indonesia, Nigeria, Senegal and Romania. PIAP GRYF® with weight of 48 kg is adapted to the neutralisation of hazardous items and devices,
including explosives.
A hybrid chassis (wheel and tracklaying system) of the robot ensures ease of movement on any surface, in various terrain conditions and in the buildings (including climbing the stairs). The robot's wheels can be detached quickly to reduce its overall dimensions for tasks carried out in narrow spaces, e.g. on board of an aircraft.
PIAP GRYF® is fitted, among other things, with cameras for vehicle steering with IR (infrared) illuminators for day and night operations, a high resolution camera with 33x optical zoom and a grip camera for easy handling of hazardous items.
It is controlled by means of a modern and light control panel which, thanks to its new construction, allows to intuitively operate all manipulator degrees of freedom with joysticks and ensures smooth movement of the robot. A large touch display screen makes it possible to assess from a safe distance contents of a suspicious cargo or luggage or structure of an improvised explosive device.
PIAP IBIS® robots, which were delivered this year to the Polish Police, are intended for operation in pyrotechnical hazard conditions, making it possible to collect, transport and remotely liquidate suspicious parcels or improvised explosive devices. PIAP IBIS® can carry out operations, inter alia, inside public facilities, in terminals, luggage sorting facilities, at parking lots and on runways – i.e. in areas of airports where there is a need for verification and neutralisation of potentially hazardous packages.
Large mobile robots can also be equipped with additional fittings, such as pyrotechnical ejectors, X-ray scanners, CBRN (chemical, biological, radiological, nuclear hazards) sensors or explosives detectors. Their significant asset is a far operating range, ensuring increased safety and comfort of work for service staff.
Since 2011 the PIAP IBIS® robots have been on duty at Polish airports, and the first Polish airport having such equipment at its disposal was the Warsaw Chopin Airport.
The smallest model amongst the robots sold this year is PIAP TRM®, consisting of a tubular body, containing : a camera, a microphone, and white and/or IR illuminators. The robot features two flexible rubber wheels on both sides. The device can be dropped from large heights (even 9 m) on hard surface, therefore PIAP TRM® can be thrown into a building (or any location in the open area) from a significant distance (15-20 m), and remotely controlled to carry out covert reconnaissance.
The tactical Throwable Robot can also handle and launch stun charges to disrupt and cause panic in a group of assailants. The unique features of the PIAP TRM® robot include a silent drive, smooth tool-free 360° camera adjustment , compatible with different LED illuminators. Its advantages are also small weight (1.5 kg in the basic version) and external dimensions of the control panel, digital recorder integrated with the control panel or a possibility of operating several robots from a single control panel.