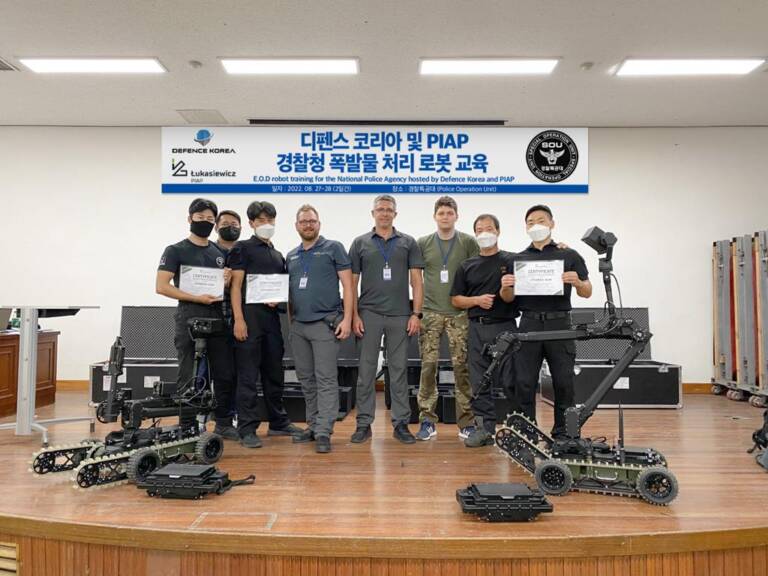 21-10-2022
PIAP GRYF in the Special Forces of the Korean National Police
Łukasiewicz – PIAP supplied PIAP GRYF explosive ordnance disposal robots for the Korean National Police Special Operations Unit (KNP-SOU). The latest models of the medium-sized (48 kg) EOD robot have been provided to officers on duty in the police special operations units.
The Korean National Police Special Operations Unit, or SOU for short, is a type of police force operating under the Korean National Police Agency. The SOU performs counter-terrorism missions in urban/civilian environments, hostage rescue operations as well as search and disposal of explosives related to terrorist incidents. In addition, the unit secures important international events and supports rescue operations in emergency situations such as various disasters or humanitarian crises. The tactical personnel of the Korean National Police Special Forces are recruited only from among experienced special forces soldiers. PIAP GRYF explosive ordnance disposal robots are already well known to the South Korean military, and therefore some EOD operators in the police are familiar with previous versions of the device.
The PIAP GRYF mobile explosive ordnance disposal robot is designed for the neutralization tasks involving the use of hazardous objects and devices, including explosives. The robot can be used to safely identify, secure and deliver a suspicious package to a location where it can be neutralized. In extreme cases, the hazardous explosive charge can be neutralized on-site using the robot accessories. A hybrid drive system of the robot ensures ease of movement on any surface, in various terrain conditions and inside buildings (including climbing the stairs). The robot wheels can be detached to reduce its overall dimensions for tasks carried out in narrow spaces, e.g. aboard an aircraft.
PIAP GRYF robots have been delivered with equipment dedicated to mine and pyrotechnical police teams. It allows them to use pyrotechnic ejectors or a portable X-ray system. A bomb technician can make use of accessories available in the tool bank on the mobile base of the robot, such as: a glass breaker and a blade for piercing tyres. In the case of radio frequency interference, the work will be easier thanks to an automatic winder with an optical fibre cable. The robot is fitted, among other things, with a PTZ camera with thermovision, cameras for vehicle steering with IR (infrared) illuminators for day and night operations, a high resolution camera with 33x optical zoom and a grip camera for easy handling of hazardous items. The robot is controlled using a state-of-the-art handheld control panel, and a trained officer can remotely identify the content of suspicious packages, luggage or other hazardous objects from a safe distance.