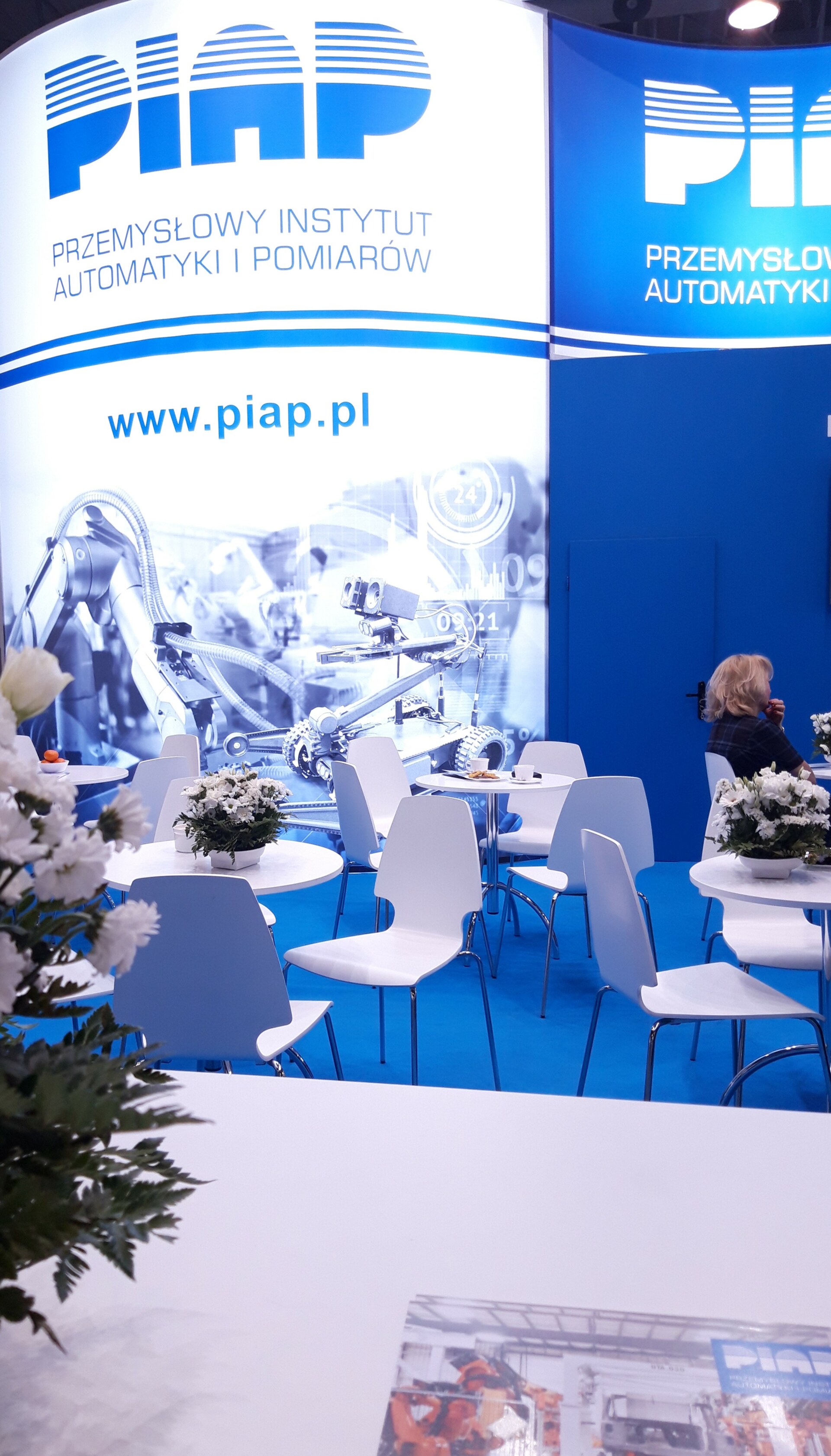 27-03-2019
Visit PIAP stand at Automaticon Trade Fair!
Automaticon International Trade Fair is currently underway. Come and visit PIAP stand to find out about the latest robotic solutions, quality control methods and see a glass cutting plotter in action. Come and meet our experts.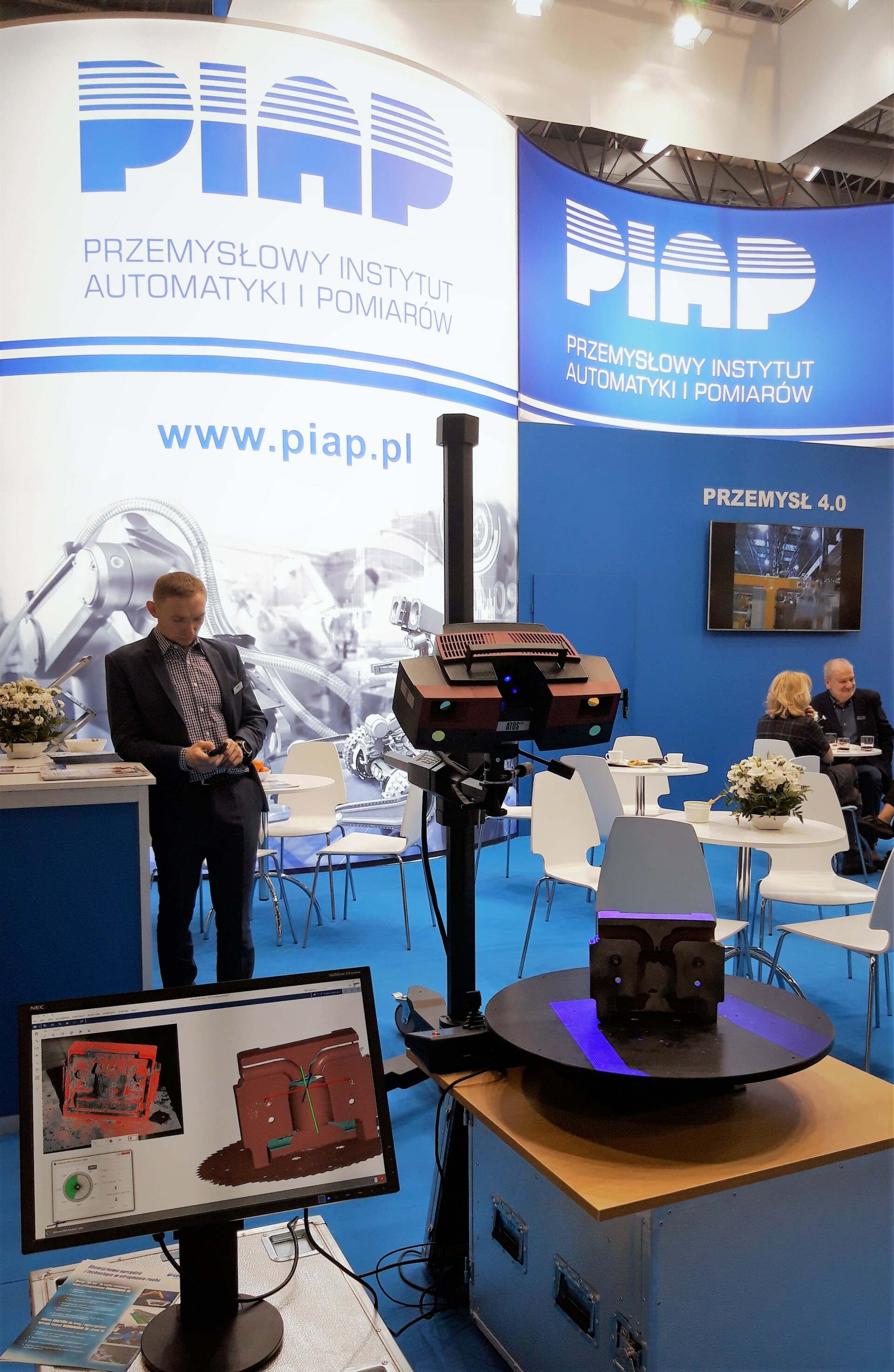 25th Edition of the International Fair for Industrial Automation – AUTOMATICON is currently held at the Warsaw EXPO XXI Centre (Prądzyńskiego 12/14, Warsaw). A stand of the Industrial Institute for Automation and Measurements (PIAP) was visited by Jadwiga Emilewicz, Minister of Entrepreneurship and Technology.
Advanced Industry 4.0 solutions and more
Among other solutions, PIAP will present a quality control cell using an advanced 3D scanner – a new method to verify manufactured components and parts gaining popularity and following the Industry 4.0 trends. To follow the Industry 4.0 approach and as part of the 4th Industrial Revolution we have developed a robotic welding cell for manufacturing synchronous bicycle frames using KUKA Cybertech robots. The robots know their relative position during operation to guarantee safety of the plant. CNC glass cutting plotter designed for service companies is another interesting device.
Visit our Stand A-10/B-9, Hall I between 9 a.m and 5 p.m. (9 a.m. and 3 p.m. on Friday) to meet our experts.
Meet us in room B-1 at a seminar held by PIAP experts. At 1.00 p.m., Krzysztof Trzcinka will discuss how to eliminate technical issues with EMC testing of prototype devices, and at 1.25 p.m., Marek Petz will discuss the topic of robot applications in the food industry.
Statistics
Throughout the years, over 1,300 exhibitors participated in the Automaticon Trade Fair organized by the Industrial Research Institute for Automation and Measurements PIAP and MVM with APAR, Elmark Automatyka, Sabur, Hans Plihal Polska/Celiko/MBB, PIAP and MVM participating in the event for the last 25 years and AB-Micro, IGE + XAO Polska, IMPOL 1 and Nivelco presenting their products since the 2nd Edition. The companies participating in the Automaticon Fair represent 27 countries. This year, 15% of all the participants were foreign companies – the highest share so far.
Gold Medal 2019
Awarding the Gold Medals for innovative solutions is an inherent part of Automaticon Trade Fair. The medals were awarded to ASKOM Sp. z o.o. (ASIX® visualization system, EVO WERSJA 10), CoRobotics Sp. z o.o. (co-operating robot HCR-3/5/12), FINDER Polska Sp. z o.o. (Yesly Comfort Living system – Beyon, 13.72 and 15.71 types), KUKA CEE GmbH Sp. z o.o. Poland (KR QUANTEC – 2 robot) and TPL Vision UK LTD (Modular Ringlight).