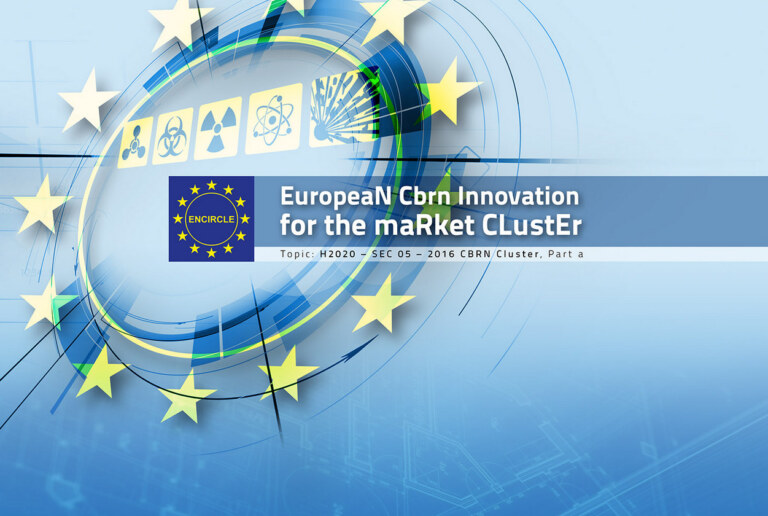 01-06-2021
Webinar on solutions for combating CBRN threats
Łukasiewicz – PIAP invites you to take part in the webinar devoted to the presentation of the ENCIRCLE Web portal related to chemical, biological, radiological and nuclear (CBRN) threats. The meeting will be held on June 30, 2021.
For many years work has been underway at both international and national levels to strengthen the capacity to respond to new types of threats related to the use of chemical, biological, radiological or nuclear agents ("CBRN threats"). One of the latest initiatives on the subject is the presentation of an online Web portal developed by the European consortium ENCIRCLE, of which Łukasiewicz – PIAP is a member. This portal has a number of features including access to a catalogue of products designed to help in combating CBRN threats. It is intended for:
Manufacturers of equipment – as a medium for the presentation of their products in the catalogue;
Equipment users – for easy access to technical specifications of products, for direct contact with sales representatives and for viewing a compilation of the latest media news about CBRN threats.
We will present the offer of the portal and explain how to use it at the webinar to be held on June 30, 2021, starting at 11:00 AM (expected to take about approx. 1.5 h). The webinar will be delivered in Polish but a basic command of English will help you in navigating in the portal. The participation in the webinar is free of charge but you need to register.
To take part in the webinar, please read the RULES and send us your registration form (containing your first and last names and the name of your organization or company) to webinariumcbrn@piap.lukasiewicz.gov.pl. By submitting the form you accept the Rules.
We are waiting for registrations until June 23, 2021. Details on how to join the webinar will be sent to the registered participants before the meeting. We encourage you to register in advance in the portal at www.encircle.eu and to become familiar with the work of the ENCIRCLE consortium at https://encircle-cbrn.eu/.