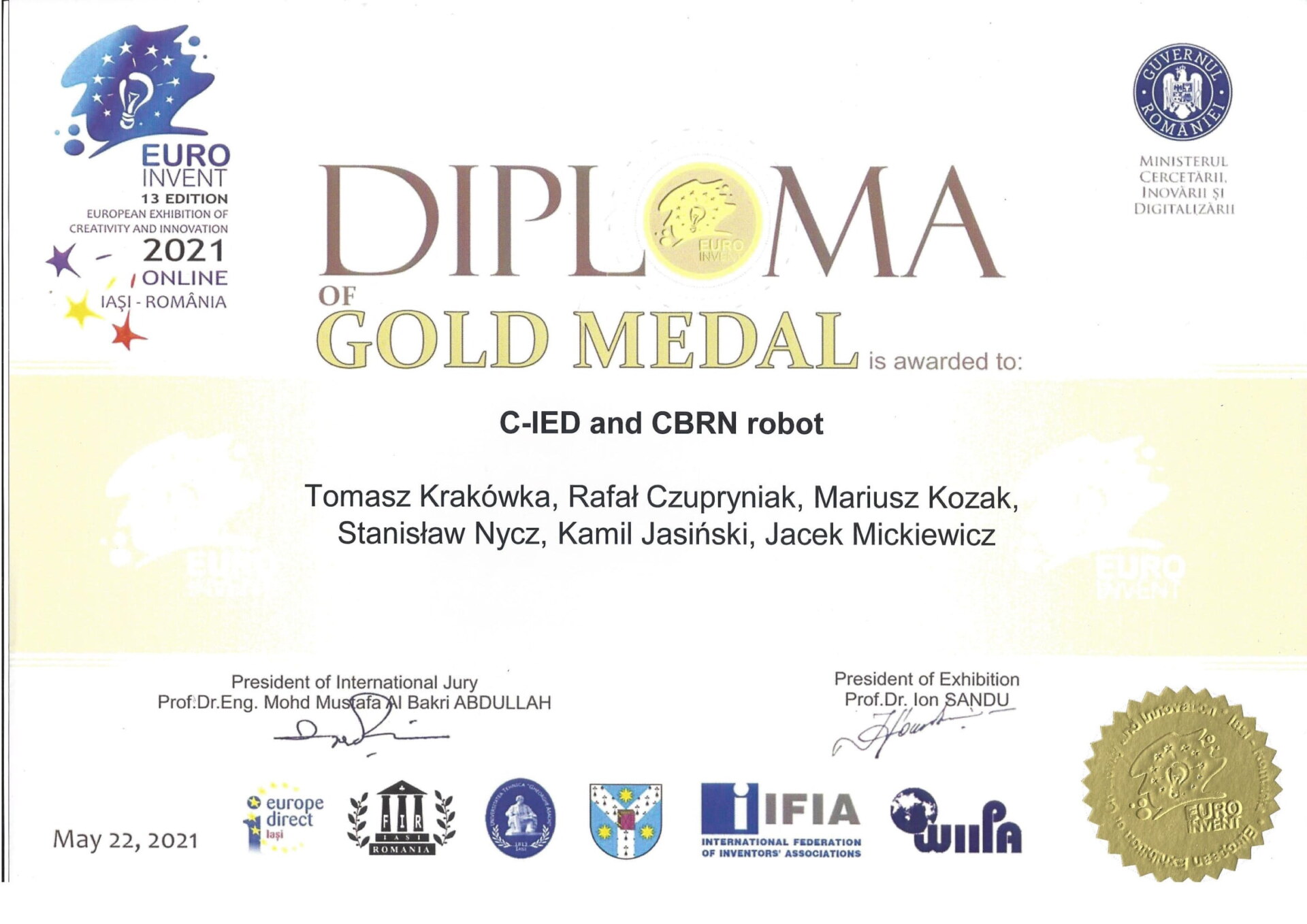 21-06-2021
Medals for Łukasiewicz - PIAP at the EUROINVENT Expo
Three solutions from Łukasiewicz – PIAP were among the winners of gold and silver medals at the International Exhibition of Inventions EUROINVENT.
Golden medal for PIAP PATROL robot for C-IED and CBRN operations. In addition, the Institute was awarded two silver medals – for the protective sleeve for robot manipulator and for device for covering smoke detectors during renovation or disinfection of rooms.
PIAP Patrol, a latest invention of Łukasiewicz – PIAP, is a medium-sized tracklaying vehicle designed to detect chemical, biological, radiological and nuclear (CBRN) risks and neutralise improvised explosive devices (C-IED). Thanks to its size and drive system, PIAP Patrol can be used for operations performed inside buildings as well as in difficult terrain conditions. The robot's compact and modular design allows transporting the vehicle even in a passenger car. The robot is equipped with a 6-axis manipulator and a gripper with a clamping function — it can be used for observations, transport and grasping objects weighing up to 22 kg. The manipulator has a reach of 2 m, which ensures a wide range of movement in every plane.
Device for covering smoke detectors during disinfection and renovation work has been developed during the COVID-19 pandemic to effectively and quickly secure fire detectors. Its advantages include low manufacturing and operating costs, easy maintenance and servicing and improved safety. More than 20 devices can be installed in one hour. The device is made of standard, commonly available materials – shank (wood or metal), string (cotton), screws, cable ties and 3D prints. The design is available in digital format as a 3D printer file. The components are designed so that they can be printed even on older, low quality 3D printers. The components can be easily removed and replaced and, if needed, printed again using any 3D printer.