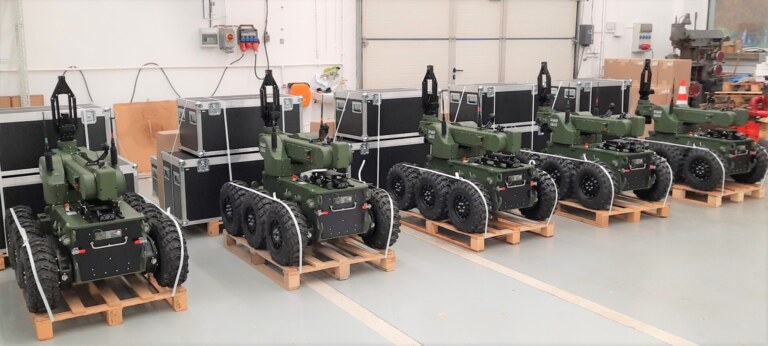 08-11-2021
Five PIAP IBIS® robots for police bomb technicians
On 28 October Łukasiewicz – PIAP delivered five large pyrotechnical robots for the National Police Headquarters.
The contract referred to the PIAP IBIS® mobile robot. New UGVs are the latest generation of the intervention and inspection robots used so far INSPECTOR® manufactured by the Warsaw institute, which have been serving in the Police for nearly 20 years.
The PIAP IBIS® robots were delivered with equipment dedicated to mine and pyrotechnical teams. It allows to use a pyrotechnic ejectors, portable X-ray system or a rifle in action. A bomb technician can make use of accessories available in the tool bank on the mobile base of the robot, such as: a glass breaker, wire cutter and a blade for piercing tires. In the case of radio frequency interference, the work will be easier thanks to an automatic winder with an optical fibre cable.
PIAP IBIS® is a robot intended for pyrotechnical actions and for reconnaissance. This high-speed UGV moving with speed at up to 10 km/h. With six-wheeled mobile platform with individual-wheel drive, it can be used in any terrain. The robot weighs over 300 kg. The manipulator with a sliding arm guarantees a large reach (over 3 m) and a wide range of movement in every plane. You can use the manipulator to collect and transport cargo weighing more than 50 kg.
After installation of optional accessories, PIAP IBIS® can be used for neutralisation of hazardous objects, chemical reconnaissance and rescue operations. External dimensions of the robot (despite the fact that it is the biggest robot in the institute's offer) enable its quick transport with a special vehicle of the pyrotechnical ambulance type.
For more information on mobile robots and equipment for special use offered by Łukasiewicz Research Network – Industrial Research Institute for Automation and Measurements PIAP visit www.antyterroryzm.com.