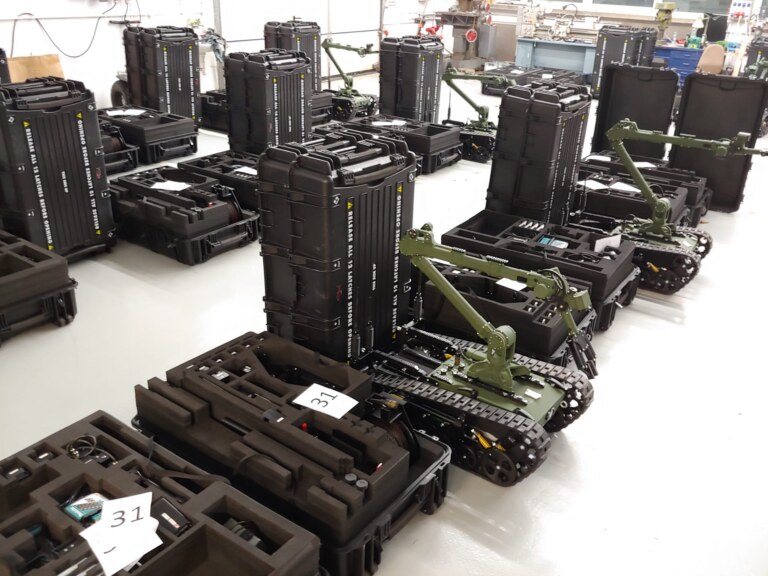 28-12-2021
Delivery of Mobile Reconnaissance Robots for the Polish Armed Forces completed
In the second half of December 2021, the last batch of 17 Mobile Reconnaissance Robots – Engineering Robot model 1806 was delivered by Łukasiewicz – PIAP to the Polish Armed Forces on time. The robots were delivered together with a spare parts kit (ZCzZ) and a service and maintenance kit (ZON).
The delivery was preceded by training the operators, the maintenance personnel and the instructors at the 2nd Masovian Military Engineer Regiment in Kazuń Nowy. Note: the delivery of 17 Mobile Reconnaissance Robots constituted the last stage of the contract between the Armament Inspectorate and the Łukasiewicz Research Network – Industrial Research Institute for Automation and Measurements PIAP regarding the delivery of 35 complete Mobile Reconnaissance Robots – Engineering Robot model 1806.
– Łukasiewicz – PIAP has been expanding the portfolio of mobile robotics equipment for over 20 years. The Inspector was the first mobile robot created by the Institute and the first robot used professionally in Poland. The robot is still used by the Polish Armed Forces. The newly delivered Mobile Reconnaissance Robots are an example of advanced solutions developed exclusively in Poland. Selecting native, ultra-modern technology, valued by services in over 22 countries around the world, is beneficial not only to the military, but also the economy, since from every zloty spent on the Polish product, 79 percent remains in the country and the money is used to further develop our technologies, emphasises Piotr Szynkarczyk, BEng, PhD, DSc, Director of Łukasiewicz – PIAP.
The Mobile Reconnaissance Robot (with a mobile platform weight of 75 kg) is a platform used by engineering units for detecting, removal, disposal and neutralization of mines, unexploded mines, unexploded explosive ordnances and improvised explosive devices as part of the international combat operations and stabilisation missions.
This medium-sized EOD/IED mission support robot is controlled remotely with a lightweight control panel. It's equipped with sensors for visual reconnaissance of objects and items, providing high resolution images anytime, any day and any season.
RI 1806 is a fast (maximum speed up to 10 km/h) robot equipped with tracks, capable of moving on paved surfaces, dirt roads, roadless tracts and in the urban environment. Its overall dimensions allow it to pass through doors with a 60-cm frame width.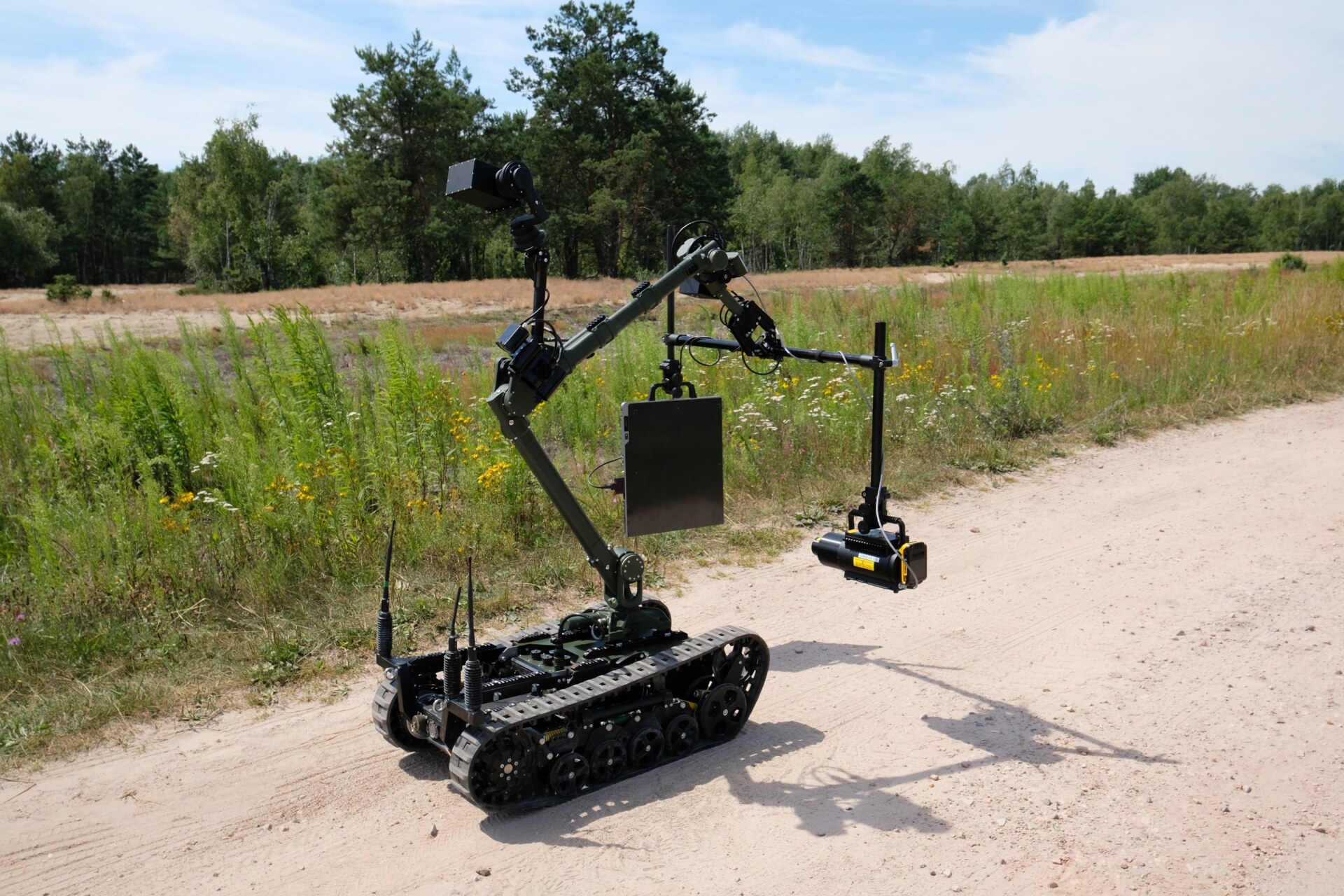 The robot features the latest mine and hazardous material detection devices, mass destruction weapon usage sensors, toxic chemicals usage sensors, and a device for disposal of explosive and hazardous ordnances using an advanced VULKAN non-recoil release gear with a 30 m range.
– Łukasiewicz – PIAP also offers the latest large unmanned ground platform, which meets all the operational requirements of the Polish Armed Forces and is suitable for the battlefields of the near and far future, adds Piotr Szynkarczyk, BEng, PhD, DSc.