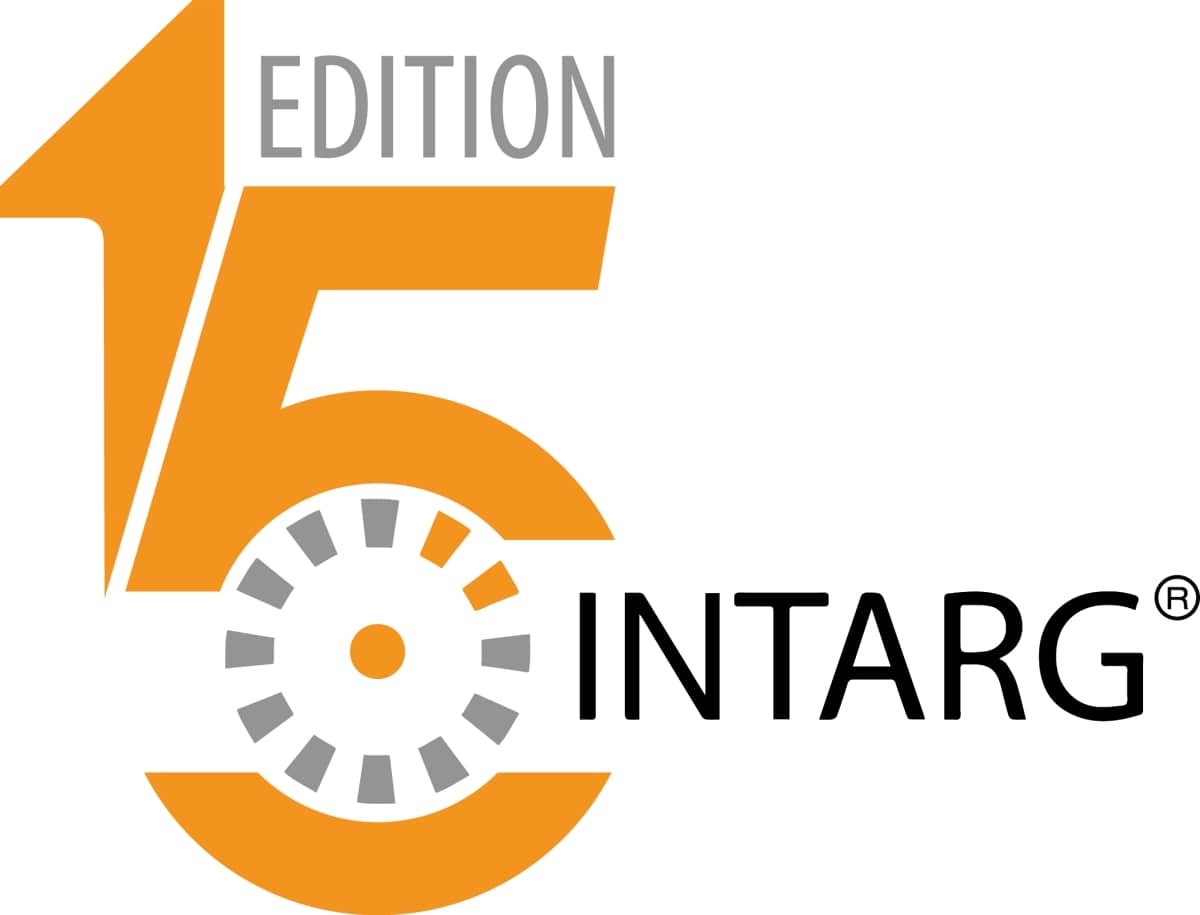 16-05-2022
Three times "yes" for solutions of Łukasiewicz - PIAP
PIAP FENIX robot, EXOREHA exoskeleton and TITAN-I industrial 3D printer – are the medallists of this year's INTARG fair which took place last week in Katowice.
The jubilee, 15th edition of the INTARG International Invention and Innovation Fair was held on 11-12 May 2022 in "Spodek" in Katowice. Łukasiewicz Research Network – Industrial Research Institute for Automation and Measurements PIAP is a triple medallist of this year's event. The Jury appreciated the PIAP FENIX robot which obtained a platinum medal, EXOREHA exoskeleton, awarded with a silver medal and TITAN-I industrial 3D printer to which a bronze badge was granted.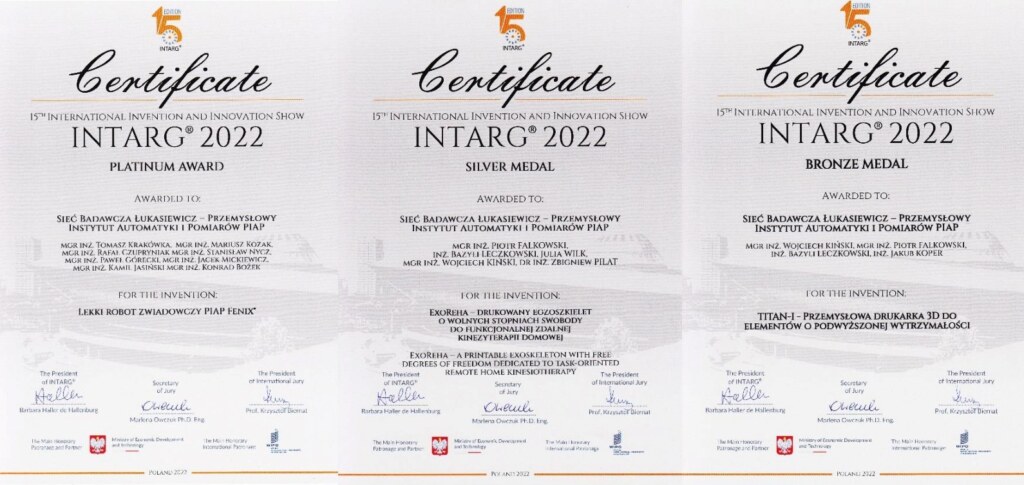 PIAP FENIX
PIAP FENIX is a light reconnaissance robot. It was designed for reconnaissance missions in a direct vicinity of military operations in locations inaccessible to human personnel. It is distinguished by low weight (15 kg), high speed (10 km/h) and long operating work time – as many as six hours. Day and night cameras (thermal imaging, night-vision) mounted on the mobile base of the robot make it possible to observe all day and night, and the wheel and caterpillar system with movable, front stabilizers guarantee easy movement on hardened, ground roads, unbeaten track, as well as in urban areas. Depending on equipment, PIAP FENIX may be designed for observation and listening watch, handling and neutralization of dangerous explosives or transportation of diversionary resources. The mobile robot is intended for work with diverse accessories including pyrotechnic extractors, X-ray systems and optical fibre winder. More information on the following website www.antyterroryzm.com.
EXOREHA
EXOREHA is a printed rehabilitation exoskeleton of upper limb, designed for neurological, orthopaedic, post-operation and post-accident patients. It has five degrees of freedom, including three driven and two free in the form of open slide bearings. This ensures full mobility of shoulder joint and elbow joint with minimum weight of the device. Thanks to the compact construction, the exoskeleton may be used in domestic conditions during functional trainings, i.e. based on performance of tasks that are most important to a patient. The device may be freely mounted on items available in most houses, such as, e.g.: chairs, beds, cabinets. It is like that so that a maximum possible number of people can use it, regardless of the degree and type of disability, as well as body structure and additional diseases.
TITAN-I
TITAN-I – industrial 3D printer for elements with increased strength – it is a device mainly intended for production of prototypes and spare parts for industrial robots, exoskeletons, prostheses, production lines, parts for automotive and air sectors, and even architectonical and artistic elements. The solution combines high technological possibilities with simple operation, minimum requirements for interference in the process and low price. It allows to print from materials with increased strength (requiring a very high temperature of the nozzle and heating up the chamber) with high accuracy (which requires correction of imprecise position of printed detail and selective cooling of produced details). The highly-advanced fittings and structure of the device made it possible to reduce dimensions of the printer and to reduce noise during operation, thanks to which it is even suitable for office use.