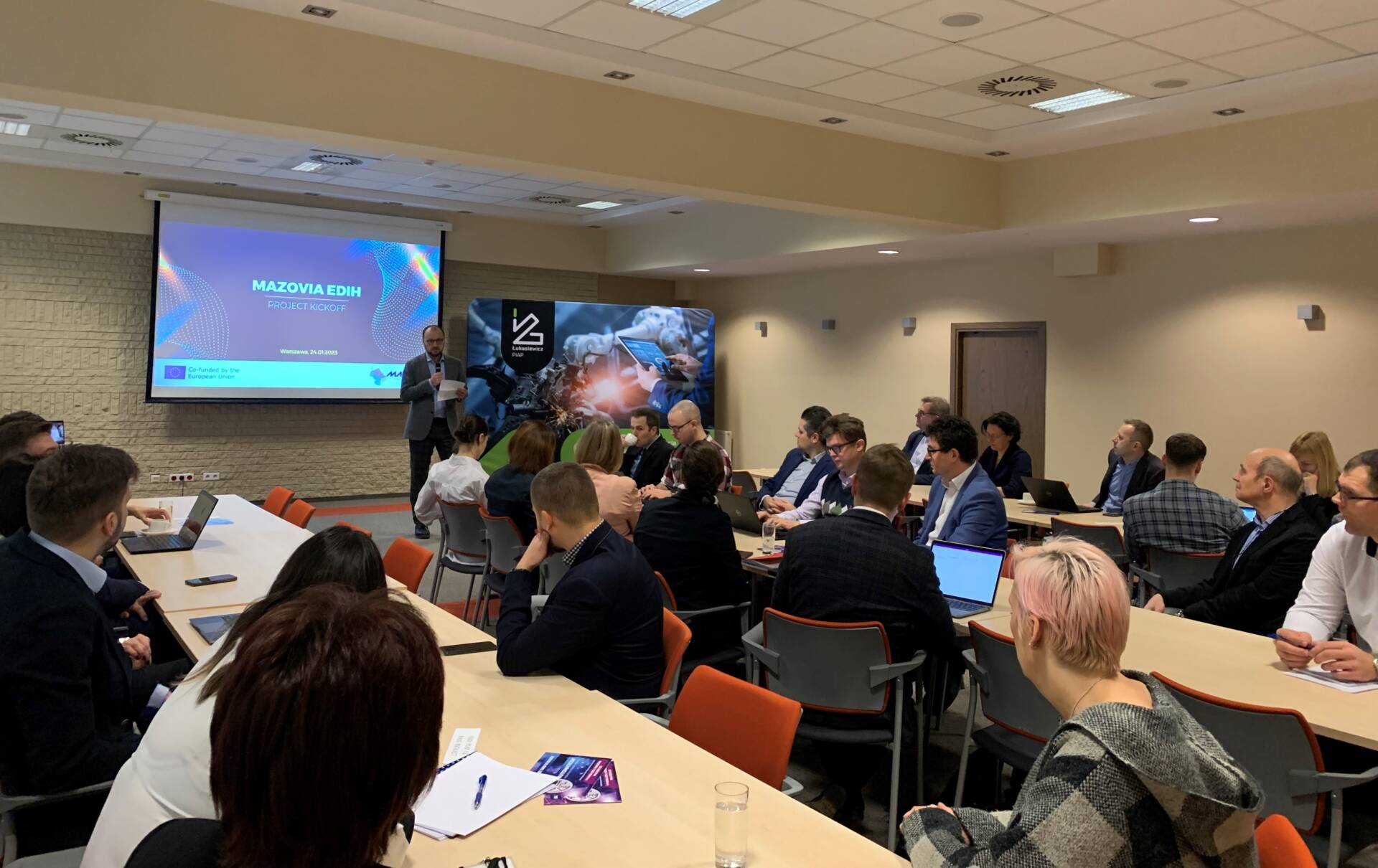 03-02-2023
The launch of EDIH Mazovia
On 24 January 2023, we launched the European Digital Innovation Hub of Mazovia (EDIH Mazovia) project, whose leader is Łukasiewicz Research Network – Industrial Research Institute for Automation and Measurements PIAP.
The purpose of the project is to support the implementation of key enabling technologies (such as e.g. advanced manufacturing technologies, micro- and nanoelectronics, electronic components and systems, photonics) – with advanced digital technologies, i.e. artificial intelligence, high-performance computing and cyber security – by the project partners, which include up to four institutes of Łukasiewicz Research Network.
The project will last from January 2023 to the end of 2025, and is expected to result in an increase in the use of technology by entrepreneurs through a pre-investment testing model, the development of skills within the aforementioned technological areas, and the provision of community-building services and, ultimately, wide-ranging business support in technological and industrial development. The total value of the project is EUR 2 ,566 ,505.99.
The project leader is Krzysztof Lipiec – Director of the Commercialisation Department at the Łukasiewicz Research Network – PIAP, who is responsible for the implementation of research results into business practice and business development. He is the leader of the Mazovian European Digital Innovation Hub and the PIAP HUB – two initiatives comprehensively supporting the digital transformation of enterprises, particularly in the field of manufacturing and robotics technologies. He represents the community of the European Institute of Innovation and Technology (EIT Manufacturing) in Poland. On behalf of the European Commission, he participated in the development of the ADMA method for strategic planning of the development of manufacturing companies. He was also responsible for its implementation in Poland and subsequent training of new consultants. He supervises the work of the Industry Contact Point of Horizon Europe for Industry 4.0, involving Polish entities in European research and innovation projects and helping obtain appropriate funding and find industry partners. He is involved in European expert groups related to science and industry policies. He managed the PIAP-Scientech company operating in the field of consulting and new technologies.
Project beneficiaries:
Łukasiewicz Research Network – Industrial Research Institute for Automation and Measurements PIAP (the Project Leader);
Łukasiewicz Research Network – Institute of Microelectronics and Photonics,
Łukasiewicz Research Network – Tele and Radio Research Institute,
Łukasiewicz Research Network – Institute for Sustainable Technologies,
Warsaw University of Technology,
University of Warsaw,
IDEAS NCBR Sp. z o. o.,
Agencja Rozwoju Przemysłu SA,
Akcelerator Fundingbox Sp. z o. o.,
Polish Chamber of Commerce for High Technologies.