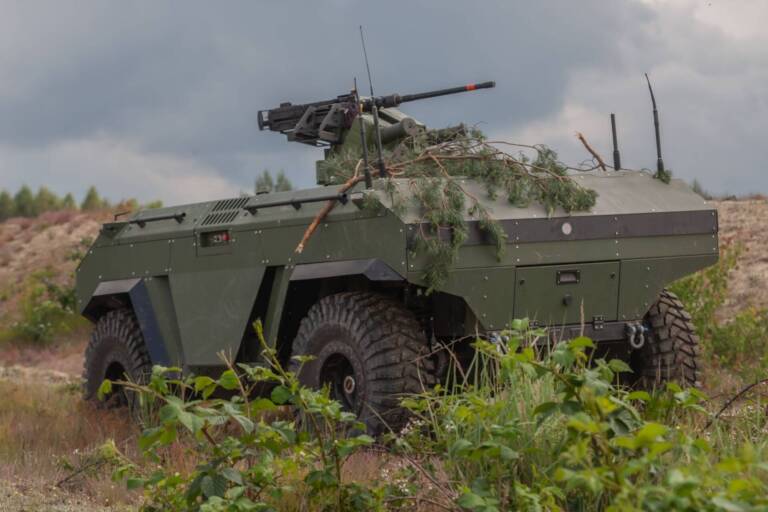 29-08-2023
Łukasiewicz - PIAP with a new offer for the Armed Forces at MSPO
The next edition of the MSPO fair will be held in Kielce on 5–8 September 2023. Łukasiewicz – PIAP will present new solutions in the field of mobile robotics in hall D, at stand 56.
The MSPO International Defence Industry Exhibition, starting in a week, will become, as every year, the venue of presentation of the greatest achievements of the defence industry from around the world. The MSPO is an excellent platform for establishing relationships, showcasing premiere solutions and technologies, exchanging knowledge and experience, as well as substantive meetings. The fair is traditionally accompanied by the Exhibition of the Polish Armed Forces, which will feature mobile robots from the Łukasiewicz Institute – PIAP. There will be no shortage of debuts.
During this year's 31st edition of the event, the use of heavy combat robots by the Armed Forces will be the theme of the Łukasiewicz – PIAP stand. For the first time, the PIAP HUNTeR combat robot will be presented, armed with the AREX ZMU-03 remotely controlled weapon module with a 12.7 mm machine gun and smoke grenade launchers.
The offer presented at the MSPO will also include smaller mobile robots. The PIAP HUNTeR robot will be presented with the supporting PIAP IBIS pyrotechnic robot weighing 320 kg. The smaller system can be used to support surveillance thanks to a head with a day-and-night vision camera and thermal imaging camera. The robots communicate one with the other by radio, which extends the operational range of the platforms.
The latest version of the PIAP FENIX backpack robot, designed for the Police Special Operations Unit of the Republic of Korea, will also be presented during the fair, for the first time this year.
Łukasiewicz Research Network – Industrial Research Institute for Automation and Measurements (PIAP) is the first and largest Polish manufacturer of mobile robots for special applications. The Institute provides comprehensive solutions for the Army, Police, Fire Service and other organisations responsible for security, crisis management and civil protection in Poland and abroad.
Łukasiewicz – PIAP mobile robots, which are already present in over 20 countries around the world, are used, among others, in C-IED operations, reconnaissance and remote observation, border and infrastructure protection, search and rescue, crisis management, securing convoys and patrols, surveillance and patrolling.
More information can be found at antyterroryzm.com.