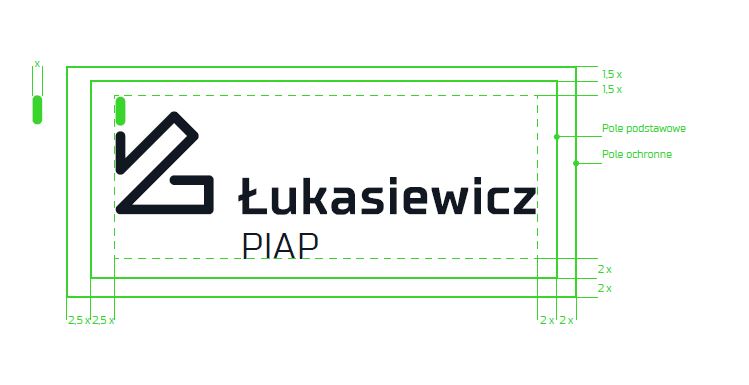 18-02-2020
ŁUKASIEWICZ – PIAP Institute new logo
The new logo represents the Institute membership in the Łukasiewicz Research Network – the third largest research network in Europe created by over 8 thousand employees and over 30 institutes in Poland.
Our new logo is a natural consequence of the transformation taking place at the Łukasiewicz – PIAP Institute, starting in April 2019, when the Institute became a member of the Łukasiewicz Research Network. 2020 is a year for rebranding – a process that will continue for the next months. The new logo will gradually replace the old logo on our website, social media profiles, documents, marketing brochures and leaflets.
Our new logo is a synthesis of key brand associations. The capital letter "Ł" – a common Polish diacritic – highlights the national character of our institute. A clean, curved line reflects a complex research and scientific path. The green element at the top emphasises the new possibilities arising from the scientific development.
Change of the company logo and brand image is a key event for Łukasiewicz – PIAP Institute. "The new image is a step forward without leaving our past successes and experiences behind – a step taken with our talented team of employees, scientists, engineers and technicians – our main asset," says Piotr Szynkarczyk, BEng, PhD, DSc, director of the Łukasiewicz Research Network – Industrial Research Institute for Automation and Measurements PIAP. "With the aid of other members of the Łukasiewicz Research Network we will create innovative technologies to support the Polish economy."