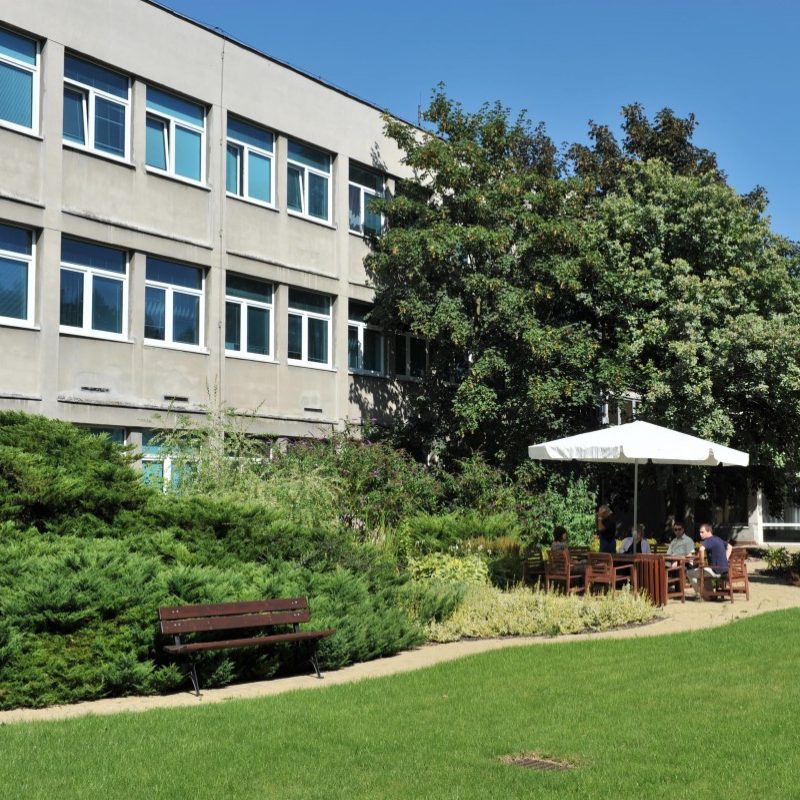 History
Industrial Research Institute for Automation and Measurements was established in 1965. From the very beginning, research work on new technologies carried out at the Institute is usually combined with designing equipment and production lines to enable direct implementation of research achievements in industry.
In the seventies and eighties the Institute manufactured modern industrial robots licensed by ASEA. At that time, PIAP was also the national coordinator of projects related to robotisation of industry.
The long list of renowned solutions and projects implemented by the Institute include:
automation of sodium plant in Janikowo,
automation of switch yard in Tarnowskie Góry,
robotisation of press lines at FSM Tychy and development and execution of a robotised welding line at FSO Warsaw,
automation of over a dozen production lines at THOMSON-POLKOLOR plant.
The Institute also developed a modular analogue electrical automation system INTELEKTRAN for controlling the operation of power units in power plants.
After 1989, the PIAP underwent restructuring and quickly gained a strong position on the market. Thanks to interdisciplinary teams of specialists the Institute is capable of solving complex technological problems. This distinguishes PIAP from other companies operating in sector of measurement systems and industrial automation.
We constantly monitor needs of Polish economy and global trends. Based on the findings we commence research work on new technologies and equipment.
At present, PIAP's work focuses on the following fields:
robotisation of production stations and lines,
automation of assembly, transport systems in multi-station manufacturing plants,
weighing and dosing systems,
visual inspection systems and
mobile robots.
The last two fields are considered particularly noteworthy. Thanks to years of experience in vision system design, we offer possibilities of contactless, high precision part measurement and assessment of completeness and correctness of assembly, as well as surface quality. Research work on mobile robotics led for development of Inspector and Expert anti-terrorist robots, which now are used, inter alia, by special police units in particularly dangerous missions.
Quality of PIAP's designs is appreciated not only by customers, but also in the scientific community, as evidenced, inter alia, by academic titles granted to several people working in the Institute and titles of a doctorate in technical sciences obtained by numerous PIAP's specialists.
PIAP has won many awards. The most important awards granted in recent years include "Teraz Polska" Badge of Quality (in the 12th edition of the competition), Polish Product of the Future award, nominations to Economic Award of the President of the Republic of Poland and medals of the Poznan International Fair, MSPO Fair in Kielce or the Innovation Fair in Brussels.
The participation in many international research programs is very important for the Institute due to reputational and also financial reasons. PIAP also strongly supports the transfer of technologies from automation and robotics sector. It is performed, among others, by recognized in the industry and scientific environment publications published by the PIAP Institute, including:
monthly journal "AUTOMATICS" and AutomatykaOnline.pl web vortal,
scientific and technical quarterly journal "Measurements Automation Robotics" (PAR),
quarterly journal "Journal of Automation, Mobile Robotics & Intelligent Systems" (JAMRIS),
and by organizing the International Scientific and Technical Conference AUTOMATICON "Automation – News and Perspectives" and co-organization of International Fair for Industrial Automation AUTOMATICON.
Extensive legacy and experience of the PIAP Institute provide an excellent basis for undertaking new challenges in the field of highly specialized technologies. PIAP is involved in innovative projects to stay ahead of the competition.
Facts
1965 Industrial Research Institute for Automation and Measurements PIAP is established in Warsaw
1970 New Institute headquarters move to Al. Jerozolimskie 202
1971 Janikowskie Zakłady Sodowe is automated
1974 Automatics for the heat engineering companies
1976 State Award for Intelektran automation system
1978 Machine Industry Minister award for Inteldigit-PI digital system
1977 ASEA-licensed industrial robot production starts
1985 The first Polish microprocessor controller is developed
1991 Automatic production of the welder's helmet starts
1992 The display tube production line for Thomson Polkolor is robotized
1995 AUTOMATICON trade fair opening ceremony
2000 The first mobile robot is sold
2001 15 production cells for Philips Lighting are automated
2003 Tachograph for rail vehicles is developed
2008 Laser cutting is robotized
2008 TALOS project: 10 countries, 20 million EUR
2009 PROTEUS project: 9 partners, PLN 70 million
2010 Five projects for the European Defence Agency
2012 9 production cells for VALEO are robotized
2013 Three projects for the European Space Agency
2014 Third "Poland Now" award for PIAP product
2014 Three graphene application projects
2014 Indonesia is a 9th importer of PIAP mobile robots
2015 First issue of "Automatyka" monthly magazine is published
2016 Tender for supply and delivery of 50 mobile robots for the Polish Army is won
2019 The Institute is part of the Łukasiewicz Research Network